How might we demonstrate the value of diversity and inclusivity to organisations new to the concept?

Problem/Goal
Modern workforces are seeing an inevitable shift towards hiring more people from many walks of life. Organisations unwilling to acknowledge this are choosing to ignore the growing opportunity for cultural evolution, which has several tangible benefits tied back to business performance. Examples of this are a wider talent pool, stronger innovation, better performance and even increased profits.
According to Culture Amp's Workplace Diversity, Inclusion, and Intersectionality report of 2019, teams that take a small wins approach to action that is tailored to their needs typically see a 4-8% uplift of scores related to their areas of focus. Our goal then becomes to identify a small win that can help us get some quick runs on the board and design the experience for it.
Constraints
Time: I wanted to use the Melbourne Cup Day long weekend to do this design challenge. I started on Friday the 1st of November and finished on Tuesday the 5th. The time cap meant each step of my design thinking process had to be lean yet impactful.
People: As I was doing this over a long weekend, I didn't have ready access to people for research. I conducted my research through forums instead.
Technology: For this challenge, I decided to design a desktop experience. Due to the sheer amount of data that gets processed, I'm assuming that it's most meaningful when more of it can be viewed on one screen without having to scroll through it, i.e. on a smartphone.
Assumptions
Assume that the organisation in question is considering implementing a cultural change program but is still having difficulties justifying its cost.

Q. How might we tangibly demonstrate the "small win" is making a big impact?

Assume that the organisation has standard maturity in data analysis.

Q. How might we make the data easy to understand?

Assume that the organisation is "busy" but still wants to see the impact of culture shift.

Q. How might we design the experience such that it fits seamlessly into the employees' lives?
Topic Research
Changing corporate culture is obviously a huge topic to unpack. My purpose wasn't to comprehensively understand it, but to skim the surface and find an area I could drill into and design an experience for.
The above video was an interview conducted with Matt Timmins, Europe Team Lead at Culture Amp that had just been published a couple weeks ago. From it, I was able to jot down some key thoughts that I placed into an Affinity Map:
As you can see within the "Inclusion" section, there were a couple points I highlighted that piqued my interest in Psychological Safety.
Psychological Safety: a shared belief held by members of a team that the team is safe for interpersonal risk taking.

Amy Edmondson – Harvard University
Google had actually conducted a study into team effectiveness and found that it was not only the most important trait in high performing teams, the other four traits relied on it being present to be maximise their own impact.
Timmins in his interview had also said that "we need to help managers create psychologically safe places [for our staff]."
In terms of a "small win", it was shaping up that Psychological Safety would be a good place to focus.
User Research
As I didn't have access to people, I conducted some ad hoc research on Reddit, searching for "problems with managing teams". It was surprisingly insightful with many an anecdote of managers' (mostly terrible) experiences.
On the flip side, there were a few threads from people who had become managers and were looking for advice. There were some great pointers from people who presumably had interacted with or were good managers themselves.
Ultimately, I used these new managers as inspiration for my persona.
Competitive Review
Typing "Psychological Safety Software" into Google Images doesn't yield any results, so I broadened the net to "Performance Management Software":
Without knowing too much about the detail, here are my thoughts:
a few of the designs seem dated,
they contained quite a lot of information (how much of it was actionable?),
didn't seem to contain a clear workflow.
In that respect, the opportunities were clear: create a modern, user-friendly design taking a "less is more" approach that made it obvious what the next step was in improving team psychological safety.
Workflow
Culture in of itself is a difficult concept to measure, which makes the workflow an interesting consideration. The way I approached things was to start with the end and identify the empirically supported benefits of a team in a psychologically safe space (straight out of Wikipedia):
Improves likelihood that an attempted process innovation will be successful,
Increases amount members learn from mistakes,
Boosts employee engagement,
Improves team innovation,
I worked backwards visualising each step the team members and "Monica" would logically take on their journey towards being a more effective and engaged team. Here is my workflow:
Sketches
In the dotted boxes, I left comments for myself to consider later when I begun the actual design process. The big one was how would the Psychological Safety (PS) Dashboard actually look like?
Fortunately for me, I stumbled across Amy Edmondson's TEDx talk, "Building a Psychologically Safe Workplace."
Edmondson not only created the concept of psychological safety, she was the one responsible for the body of research that underpinned its validity.
At 8:45 in the video above, she talks about the concept of Psychological Safety vs. Accountability, with critics questioning whether by focusing on the former, teams compromised on the latter. She countered by suggesting the two notions didn't belong on the same spectrum but were two different dimensions.
That was my "Aha!" moment and what I based my initial dashboard sketch on.
Some notes:
I envisioned the dashboard being something that both team members and managers have access to, supporting the sense of belonging and idea that you're contributing to something bigger than yourself,
Team members could submit their own suggestions for ways they have demonstrated accountability or the manager could add them herself,
The "Top 3 Improvements" section on the right would refresh in real time according to the a) person selected, and b) date range selected.
The big, black dot represents the cumulative team rating for how psychologically safe they feel as interpreted by their survey submissions. The dotted dot is the last most recent rating to show the delta from the last period the survey was taken.
Wireframe
By this time, it was Monday and I was running out of time. I wanted to create the wires for more pages, but I decided to focus just on the dashboard itself.
Walkthrough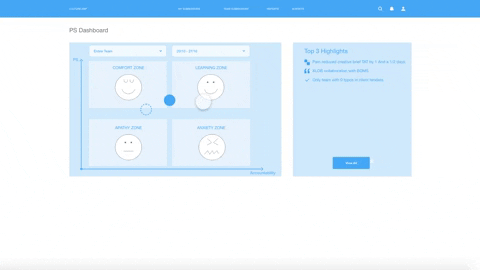 Hi-Fidelity Prototype
Closing Thoughts
Time for me was the big factor here. I wanted to also mock up a report page that delved into the insights from the survey, but it wasn't to be.
I would have also conducted some usability tests to validate this design. Even if the concept of the graph layout was created by Edmondson, speaking to managers to see if this was useful would have been ideal.
My UI design is coming along but still not at the level at which I'm happy with. I'm not sure why the final prototype ended up so blue-green.